By Arlene Prunkl, freelance editor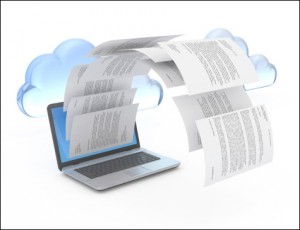 Recently, I was evaluating a fiction manuscript in which the really compelling part of the story didn't begin until 200 pages in, halfway through the manuscript. The foregoing pages read like a journal of the protagonist's everyday life up until the point of the inciting incident, which in this case happened to be a murder for which he was charged. While I wrote up suggestions for structural changes that would have that dramatic event occur much earlier in the story, I thought about how my self-publishing authors are often uncertain about how to structure a story, going at it blindly or by instinct. I'm always surprised that some authors feel they can write fiction using their instincts only. After all, a person can't just sit down and write a symphony by instinct. Much theory needs to be learned before composition can happen, and it's no different with writing. Stories need structural theory applied to create a plot.
Ask ten people how to define plot in fiction, and you'll get as many different responses. Even with the classic definition some of us learned in school, why is plot so hard to pin down? Can a cut-and-dried definition or formula be identified, and can it be useful? Isn't it contradictory to try to clamp an analytical left-brain formula around what is essentially a creative right-brain process? Is it even possible? In this post, I'll examine the elements of plot from several perspectives and suggest how these can be applied to your fiction writing. While none of these ideas has the definitive answer to the question, "What is plot?" all are useful in developing a better understanding of this elusive concept.
Artifice, causality, and consequences
At its most basic, plot means structure—a story with a contrived, artificial structure. It's artificial because it's art and not life, which is simply a series of unstructured events, some planned, some random. Most of our lives, if written down, would read like meandering journal or diary entries, with one event following on another without artifice. Conversely, plot can be thought of as causal, where something usually happens because of something else, followed by consequences, followed by more causal events followed by more consequences. For example, the following sentences read like diary entries: I was depressed. I splurged on airline tickets to France. My bank account was depleted. But if causality is added, we have what could be roughly considered a little plot: Because I was depressed, I splurged on airline tickets to France; consequently my bank account was depleted and I was even more depressed. Of course, this example is too simplistic. Not all plot points need to have an explicit cause, but if the writing is done well, the reasons things happen as they do should be implicit. Causality should be subtle and organic.
Conflict is essential
But structure and causality are not enough. Within that framework, the essential ingredient for a true plot is conflict. At the outset of the story, the protagonist must be placed in a life-altering situation, something that upsets the normal course of her life, causes her to struggle, and forces her to set a new goal or goals in her life. It is a change sometimes of her own making or, more frequently, a change instigated by outside forces. This is called the inciting incident. It can be a physical (external) or psychological (internal) struggle, but it always motivates the protagonist to set a goal, then strive through conflict and struggle to reach it. Her motives and motivation to reach that goal must be strong and realistic. In most fiction, the underlying contract or promise the author makes to the reader is to ensure the protagonist's goal is fulfilled by the end of the story. In a tragedy, however, this goal may not be fulfilled. Many of us were taught in creative writing classes that conflict can be human against human, human against nature, or human against him/herself (internal). Most fiction falls into one of these three categories.
It's important to realize that conflict doesn't necessarily need to be full of high drama. Conflict can range from the smallest moral decision (internal)—should Emily stay home and wait for her lover to call, or should she assist her grandmother with shopping?—to a huge battle scene (external), and everything in between.
Once the conflict has been introduced, the remainder of the story until the climax is spent with the protagonist dealing with her struggles, whether they're physical, psychological, or moral. In each successive scene, problems, obstacles, and consequences escalate, providing the protagonist with new opportunities to reassess her goal, attempt to achieve it and not quite succeed, then reassess her goal again, attempt to achieve it, and so on with escalating tension and conflict until the climax.
Classic plot structure
Let's continue by discussing for a moment what we learned in school about plot, the classic, conventional formula of conflict-crisis-resolution. The traditional structure of a story—the narrative arc—consists of a beginning with an exposition/introduction, an inciting incident, rising action during which problems, struggle, conflict, twists, and tension escalate, a climax or crisis, falling action or denouement, and a resolution/conclusion in which the protagonist has been transformed in some way by her experiences. This is sometimes referred to as Freytag's triangle or pyramid, based on 19th-century German novelist and playwright Gustav Freytag's analysis of ancient Greek and Shakespearean drama. However, plot is perhaps more precisely diagrammed as an ascending arc in which scenes build on one another until the crisis or climax occurs, followed by a much briefer descent in the arc in which the denouement and resolution occur. At this point, the protagonist will typically have undergone a transformation through all the changes she has experienced to become a better, wiser, or more enlightened human being.
In the diagram I've created below, the mini arcs represent individual scenes in a story. Plot points are simply turning points in the plot, no matter how small.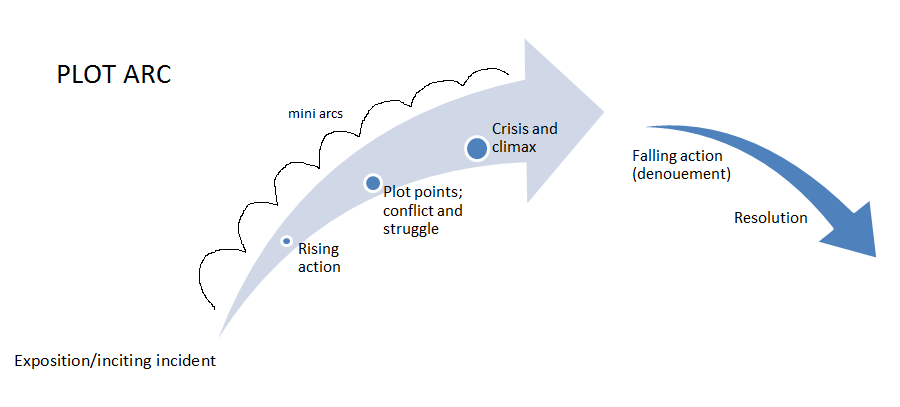 The ABCDE formula
A similar formula for describing plot has the easy but not entirely accurate acronym ABCDE (the words in parentheses are mine):
A. Action (introduction or exposition) – inciting incident occurs; setting, characters, main conflicts are introduced
B. Background or backstory (followed by the rising action) – characters are developed, conflict is increased scene by scene, more obstacles are created, motives and motivation increase. This forms the major part of the plot.
C. Climax or crisis – the peak of a story in which the major conflicts erupt in a final struggle—a battle, argument, tense emotional moment—in which the protagonist will either win or lose her struggle.
D. Denouement or falling action – events that immediately follow the climax; tidying up of the plot's loose ends.
E. Ending (resolution or conclusion) – the reader seeks a feeling of closure; the protagonist reflects on life and how she has changed and grown, hopefully having learned lessons to become a wiser person.
However, this formula falls a bit short. Stories need not always begin in the middle of the action, but if they do, that action is likely brief and may not characterize the entire exposition. And certainly backstory without rising action would be meaningless; the mnemonic should really be ABRCDE, the R for rising action, which is the largest part of the story. Nonetheless, I've provided the ABCDE formula here as an easy tool against which to check your work.
I've also seen a variation of this formula, ABDCE: Action, Background, Development, Climax, and Ending. It's attributed to Alice Adams, American novelist and university professor. This has value too, but again is a little oversimplified.
Nigel Watts' eight-point story arc
Another way of characterizing plot is Nigel Watts' popular eight-point story arc, which he explains in detail in his book Write a Novel and Get It Published. You'll note there are many similarities to the above two models:
1. Stasis – the exposition; the protagonist going about his or her everyday life.
2. Trigger – the inciting incident, a conflict or problem that alters the protagonist's life irrevocably and sets the plot in motion.
3. Quest –the protagonist is forced toward accomplishing a big, story-worthy goal that involves solving the problem created by the trigger incident.
4. Surprise – the rising action. A series of events fraught with obstacles, struggles, and escalating conflict that make achieving the goal increasingly elusive. Each event involves a decision and action to propel the story to the next event. Character growth and development occurs here.
5. Critical choice – the character must make a crucial decision, usually involving a moral dilemma, to choose a particular path and confront his or her biggest obstacles.
6. Climax – the critical choice results in the climax of the story, the highest peak of emotion and tension. This could be an argument, a physical battle, or emotional turmoil.
7. Reversal – the consequences of the critical choice and climax, leaving the protagonist changed: wiser, more enlightened, having grown and developed in some way.
8. Resolution – the protagonist's main problem initiated by the trigger event is solved; the story ends at a new point of stasis, a new beginning.
A few words about scenes
For all of these methods, the arc of a plot is broken down into separate scenes, some of which may be grouped together in chapters. Each scene should have its own mini structure, a mini arc that resembles the larger plot arc in structure but without the falling action and resolution. Instead, each scene should have a mini decision or goal, a struggle to reach it, a mini crisis, and consequences that propel the protagonist (or antagonist) into further conflict and struggle—which create the beginning of the next scene. These mini crises need not be huge or dramatic; they can be simple and as short as a sentence, as long as they provide the impetus for consequences and a new cycle of goal/decision/struggle/conflict/crisis/consequences. Scene breaks generally occur with a change in location, a change in time, or a change in point of view. I'll examine how to structure scenes in further detail in a future blog post.
"But a formula stifles my creativity!"
Perhaps about now you're silently screaming, "Formulas! I'm a creative writer. Doesn't writing by formula go against every fibre of my being? How am I supposed to apply my creativity to such rigid rules?" It's true; abstract, theoretical formulas don't always lend themselves well to creativity. And simply knowing these conventions falls far short of knowing precisely how to apply them and actually write a story around them. At worst, they may be an impediment, causing you writer's block because you can't make your ideas fit such seemingly restrictive structures. Moreover, these theoretical models can be too simplistic; they don't account well enough for subplots (which are handled like a mini plot and overlaid against the main plot), story layering or multiple storylines, metafiction, character-driven novels, some literary fiction, and many other avant garde ideas and variations that can arise from the creative process.
How to apply plot knowledge
So what am I going to suggest? I won't say you can escape learning conventional theory. As I've noted, a student learning musical composition would be at a huge disadvantage if he hadn't first learned music theory. I will suggest that you learn these concepts well—an easy starting point is James Scott Bell's Plot & Structure—and then put them away, internalize them, and get back to writing your story. Set aside the rules, forget the formulas, abandon the restrictions and limitations. For now, just let your creativity flow. The creative process is mysterious and unique to each writer, and it should never be stifled by conventions, formulas, or theory.
If you've taken the time to ground yourself with knowledge of classic plot structure, your subconscious will use it as you write. But this knowledge will best serve you after you've completed your writing. When you've completed a first draft, get back to the formulas. Use them as a checklist against which to examine your work. For example, something may be bothering you about a certain weak area, but you haven't been able to put your finger on it. Knowledge of plot and scene structure may help you identify the problem.
The art of telling stories has been around for millennia, long before the written word recorded them for posterity. Increasingly, modern writers are trying radical new approaches to fiction, sometimes abandoning the classic structure I've examined here. But I and many other writing professionals are convinced it remains one of the most satisfying structures for readers, and that's not likely to change anytime soon. If you're a beginning writer, it's best to adhere fairly closely to the classic structure's conventions—at least for your first work. Absorb them first, then set them aside and create. Afterward, use your new knowledge to check whether your fiction measures up. And remember that although these guidelines may seem rigid, they're anything but; millions of stories have been told using variations on this same structure. It's tremendously flexible, and there's room for infinite creativity within it.
Plot development and character development are inextricably interwoven. To expand your knowledge of fiction techniques, check out my blog post on how to develop deep point of view for your characters.
♠  ♠  ♠
Arlene Prunkl is a freelance manuscript editor
and the owner of PenUltimate Editorial Services
You can find her on Google+, LinkedIn, Twitter, and Facebook
December 5, 2013
_____________________
References, in addition to Internet resources:
1. Alice LaPlante, The Making of a Story (W.W. Norton & Co., 2007)
2. James Scott Bell, Plot and Structure (Writer's Digest Books, 2004)
3. Nigel Watts, Write a Novel and Get It Published (McGraw-Hill, 2010)
4. Orson Scott Card, Characters & Viewpoint (Writer's Digest Books, 1988)
_____________________
I welcome all comments. Please note that Disqus is a secure commenting system requiring moderator approval, and it may be a few minutes before I receive notification of your comment, approve it, and reply. Thanks for your patience!